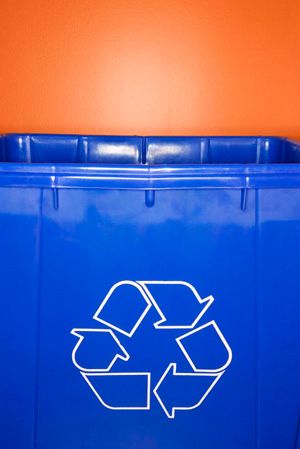 Believe it or not printing is actually one of the most sustainable industries and committed to being proactive in protecting our natural resources. Paper mills plant and farm trees like any other crop and nothing is wasted, scraps, pulp, other paper all goes in the mix. In fact nearly all paper now has some level of recycled content, but to brand your project as "printed on recycled paper" we need to select a paper with at least 10% post-consumer waste (this is the paper you drop in your blue bin every day).
At The Goode Company we offer a wide range of recycled papers for all of our products, digital, sheet-fed and even web. Ask your representative for samples and ideas; we encourage the use of recycled paper!
We use vegetable based (soy) inks on our sheet-fed presses too, eliminating the emission of any harmful chemicals.
We are also one of the largest recyclers in the North Bay. Nothing goes to waste at The Goode Co, not a scrap of paper goes to a landfill, we generate literally tons of material every month that it used to make more paper.
We even have a "green" building, built to use a minimal amount of energy to heat and cool.
Our new HUV printing press eliminates VOC's by using ultra violet light to dry ink instead of heat.
Digital printing is an ecofriendly process too, the toner based ink is recyclable and also emits no harmful VOC's, all cartridges are refilled and reused.
As a company we care about our community and our environment and try to do our small part to help, we encourage your business to do the same and we're here to help in any way we can!